Cardiac Innate Immunity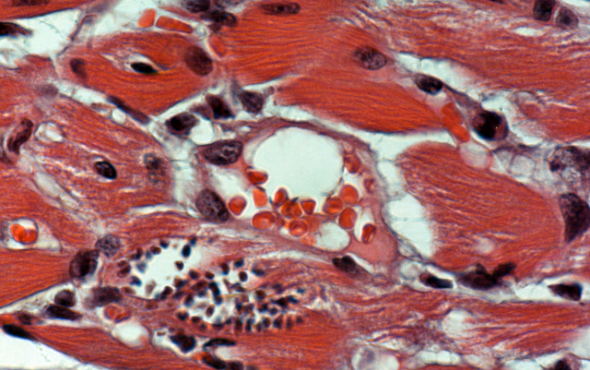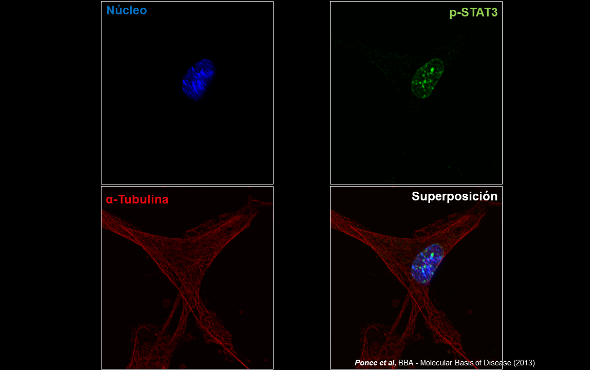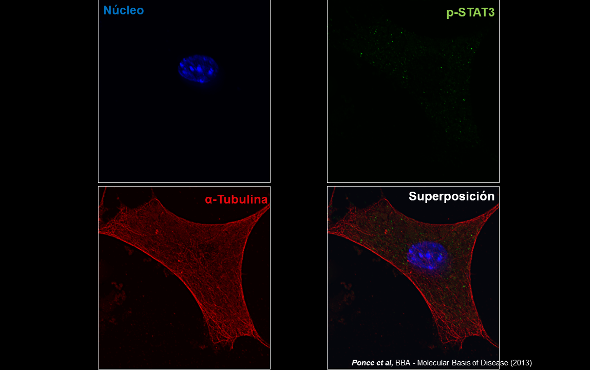 Publications
Ponce NE, Sanmarco LM, Eberhardt N, Garcia MC, Rivarola W, Cano RC, Aoki MP. CD73 inhibition shifts cardiac macrophage polarization toward a microbicidal phenotype and ameliorates the outcome of experimental Chagas cardiomyopathy. Journal of Immunology (2016) Aug 1; 197(3):814-23. doi: 10.4049/jimmunol.1600371.
Garcia, MC; Ponce, NE; Sanmarco, LM; Manzo, RH; Jimenez-Kairuz, AF; Aoki, MP. Clomipramine and Benznidazole act synergistically and ameliorate the outcome of experimental Chagas disease: In vivo and in vitro assessments. Antimicrobial Agents and Chemotherapy (2016) Vol 60; Issue 6; doi: 10.1128/AAC.00404-16.
Cabalén ME, Cabral MF, Sanmarco LM, Andrada MC, Onofrio LI, Ponce NE, Aoki MP, Gea S, Cano RC. Chronic Trypanosoma cruzi infection potentiates adipose tissue macrophage polarization toward an anti-inflammatory M2 phenotype and contributes to diabetes progression in a diet-induced obesity mode. Oncotarget (2016) Feb 23. doi: 10.18632/oncotarget.7630
Arocena AR, Onofrio LI, Pellegrini AV, Carrera Silva AE, Paroli A, Cano RC, Aoki MP, Gea S. Myeloid-derived suppressor cells are key players in the resolution of inflammation during a model of acute infection. Eur J Immunol (2014) Jan;44(1):184-94. doi: 10.1002/eji.201343606.
Ponce NE; Carrera-Silva EA; Pellegrini AV, Cazorla SI, Malchiodi LE; Lima AP; S Gea; Aoki MP. Trypanosoma cruzi, the causative agent of Chagas disease, modulates IL6-induced STAT3 phosphorylation via gp-130 cleavage in different host cells. Biochimica et Biophysica Acta-Molecular Basis of Disease (2013) 1832 485-494. doi: 10.1016/j.bbadis.2012.12.003.
Ponce NE; Cano RC; Carrera-Silva EA; Lima AP; Gea S; Aoki MP. Toll-like receptor-2 and Interleukine-6 mediate cardiomyocyte protection from apoptosis during Trypanosoma cruzi murine Infection. Medical Microbiology and Immunology (2012); 201: 145-155. doi: 10.1007/s00430-011-0216-z.
Aoki MP, Carrera-Silva EA; Cuervo H, Fresno M, Gironés N, Gea S. Non-immune cells contribute to cross-talk between immune cells and inflammatory mediators in the innate response to Trypanosoma cruzi infection. J Parasitol Res (2012); 2012:737324. doi: 10.1155/2012/737324.
Pellegrini A, Carrera-Silva EA, Arocena A, Cano RC, Aoki MP, Gea S. Trypanosoma cruzi antigen immunization induces a higher B cell survival in BALB/c mice, a susceptible strain, compared to C57BL/6 B lymphocytes, a resistant strain to cardiac autoimmunity. Med Microbiol Immunol (2011) Nov;200(4):209-18. doi: 10.1007/s00430-011-0192-3
Carrera-Silva EA, Guiñazu N, Pellegrini A, Cano RC, Arocena A, Aoki MP, Gea S. Importance of TLR2 on hepatic immune and non-immune cells to attenuate the strong inflammatory liver response during Trypanosoma cruzi acute infection. PLoS Negl Trop Dis (2010) Nov 2;4(11):e863. doi: 10.1371/journal.pntd.0000863.
Carrera-Silva EA, Cano RC, Guiñazú N, Aoki MP, Pellegrini A, Gea S. TLR2, TLR4 and TLR9 are differentially modulated in liver lethally injured from BALB/c and C57BL/6 mice during Trypanosoma cruzi acute infection. Mol Immunol (2008) Aug;45(13):3580-8. doi: 10.1016/j.molimm.2008.05.004.
Cuervo H, Pineda MA, Aoki MP, Gea S, Fresno M, Gironès N. Analysis of classical and alternative activation in heart tissue during acute Trypanosoma cruzi infection in mice: arginase I is expressed in infiltrating CD68+ macrophages. The Journal of Infectious Diseases (2008) 197(12):1772-82. Doi: 10.1086/529527.
Savino W, Villa-Verde SM, Mendes-da-Cruz D, Silva-Monteiro E, Perez AR, Aoki MP, Bottasso O, Guiñazú N, Silva-Barbosa SD and Gea S. Cytokines and cell adhesion receptors in the regulation of immunity to Trypanosoma cruzi. Cytokine & Growth Factor Reviews (2007) 18: 107-124. Revisión. Doi:10.1016/j.cytogfr.2007.01.010.
Aoki MP, Cano RC, Pellegrini AV, Tanos T, Guinazu NL, Coso OA and Gea S. Different signaling pathways are involved in cardiomyocyte survival induced by a Trypanosoma cruzi glycoprotein. Microbes Infect (2006) Jun;8(7):1723-31.
Aoki MP, Guiñazú NL, Pellegrini AV, Gotoh T, Masih DT, Gea S. Cruzipain, a major Trypanosoma cruzi antigen, promotes arginase-2 expression and survival of neonatal mouse cardiomyocytes. Am J Physiol Cell Physiol (2004) Feb;286(2):C206-12.